So you think you know about challenging races? Trust us on this, if it ain't on our list, you ain't seen nothing yet. Completing one of these races almost assures you a legacy. We are not talking about that sissy Comrades Marathon stuff, we are talking about races that are akin to one of Hercules' labours. Have a look at these insane races and brace yourself – it's going to be a bumpy ride.
Leadville Trail 100 Run – Colorado


To say that the Leadville 100 Run is a bit hard, is like saying that Hitler was a bit of a douche – a gross understatement. Race director Kimo Seymour likens the race to breathing through a straw for 20 to 25 hours. It is bad enough that this ultra-marathon is a lengthy 100 miles, but the race is run at a nose-bleed altitude of above 10 000 feet. Being an official competitor entails completing the 26.2-mile Leadville Marathon, Silver Rush 50-mile bike or run, Leadville Trail 100 Run, Leadville Trail 100 Mountain Bike Race, and the Leadville 10K run in the same year – simply insane.
Transpyr – Spain


The Transpyr in Spain is a cycling race that will render you a sobering gut check upon undertaking it. This race goes down at the unforgiving Pyrenees mountain range. Eight days of calf cramping and hard riding is sure to leave you a little more than rattled. Riders must travel for 509 miles with 66,601 feet of accumulated climbing. Absurdly, that is the equivalent of having ascended Mount Everest a lot more than twice over.
Badwater UltraMarathon – California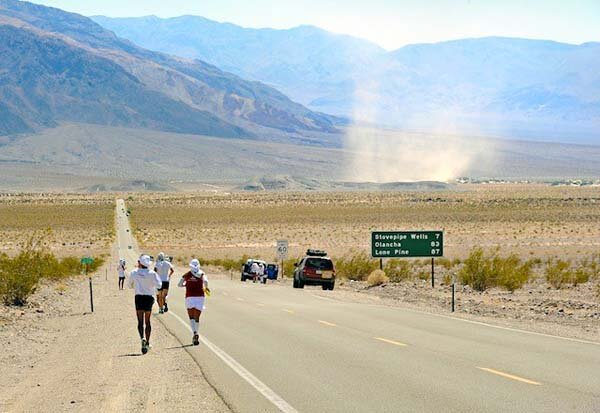 The Badwater UltraMarathon is considered the toughest running race on the planet. In a true test of determination, will and endurance, competitors try to make their way through a painstaking 135 mile course that contains elevations of 8 360 feet and dips that plummet below sea level in certain portions. Mercilessly, temperatures hit about 49 degrees Celsius.  Participants are expected to make their way through Death Valley, which forms part of the Mojave Desert – crazy to say the least.
La Ruta de los Conquistadores – Costa Rica


This race bills itself as the world's hardest mountain bike race and there is certainly more than a grain of truth to that bold statement rather than a case of overselling. This race lasts three painstaking days and the course entails cutting through sandy beaches, inactive volcanoes, steep mountain passes, fast flowing rivers, a thick jungle – the course is a length of 240km and includes 40 000 feet of insane climbing. In fact, it made Time Magazine's list of top ten endurance competitions in the world.
Marathon des Sables – Morocco


Another race that is definitely not for the faint-hearted is the titanic Marathon des Sables. Each year, about 1000 participants race through the harsh terrain of the blazing Sahara desert. This six day race spans a distance of 251km – a distance of six regular marathons. Entrants run, walk and even crawl through rocks and sand over salt plains. Sand dunes as high as 150m and stinging sandstorms are known to plague athletes. Apart from the usual rations, participants are also encouraged to carry an anti-venom pump as the Sahara is home to more than 20 types of venomous snakes and scorpions.
Barkley Marathons – Tennessee


The fact that only ten people have finished this 100 mile race (there is also a 60 mile version ) in more than 20 years of its existence, is a good indicator of the difficulty-tag attached to the Barkley Marathons held on Brushy Mountain in Tennessee. With more than 59 100 feet of climb, you can be assured that time spent on the course promises to be agonising as minutes feel like hours and hours feel like an eternity. Participants have to use maps to find books that have been hidden. The race is made up of five punishing 20 mile loops that run through the steep Appalachian forest. Smashing a single loop in less than ten hours is considered impressive. It is not hard to get lost or suffer a nasty fall. Back in 2006, an entrant who steered off course went missing for over 30 hours! Navigating the course is insane and completion makes you a legend.